Some helps for using the forum :
Hosting a picture
You can link a picture if you have the url of it, but if the picture is on your computer, you have to host it before. You can use the "Host" button to host it. Then, you have to copy the link it will give you.
This link :
Put a picture on the forum
You have clic the "Image" button and paste the link of the picture on it.
Or you can use this code :
Code:

[img]url of the picture[/img]
Put a video on the forum
The easiest way to post a video from YouTube, DailyMotion or else is to put the embed link as this one :
Code:

<object width="425" height="344"><param name="movie" value="http://www.youtube.com/v/VUgE8sdEVy4&hl=en&fs=1"></param><param name="allowFullScreen" value="true"></param><embed src="http://www.youtube.com/v/VUgE8sdEVy4&hl=en&fs=1" type="application/x-shockwave-flash" allowfullscreen="true" width="425" height="344"></embed></object>
But for that, you have to allow HTML on your profile :
But you can use the "Flash" button (size of the flv video and url to enter) :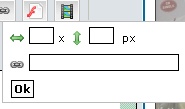 Or you can use the "Video" button :