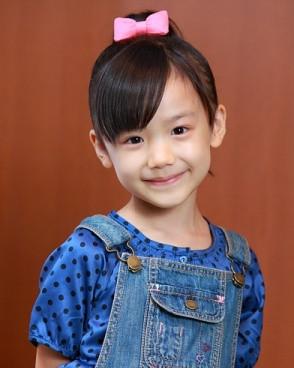 She's probably the best known child actress in Japan now and definitely the highest paid!
She's the youngest lead star in Japanese drama history and the youngest regular host of a
talk or variety show. She's also a singer and already had a few albums out and had her
first solo concert! Did I mention she just turned nine!!??

Some more info:
http://en.wikipedia.org/wiki/Mana_Ashida
http://asianwiki.com/Mana_Ashida 
A few music videos:
Natsu ga Yatta Kita! (Summer has come!) (a fan compilation of her TV and commercial appearances) 
Sutekina nichiyoubi ~ Gyu Gyu goodday! (A beautiful Sunday) 
Minna no happy birthday (Happy birthday everyone) 
She played the childhood version of the main actress in the recently released movie "Pacific Rim".
She's so good that she made me immediately want to cry when she appeared! 
Mana in Pacific RIm  
Although her greatest achievement is as an actress, I think she's also a good singer.
Due to the fact that the first video is just so cute

 , and that "Pacific Rim" just came out,
I thought why not share her here?
Enjoy!!