Caroline and I already introduced her on the froum before but I decided to create a thread for her because she replied to my interview.
Leanda has won the songcontest "Talentjakten" in 2008 a recorded her 1st song "Back to School". This song is avaible digitaly or on the compilation CD "Hits for Kids 20". She has sung a 2nd song called "Rudolf er rød på nesen" (a cover this time) on the Christmas compilation CD "Jule Hits for Kids".
Here is the original version of the interview in english (it's translated into french on my site).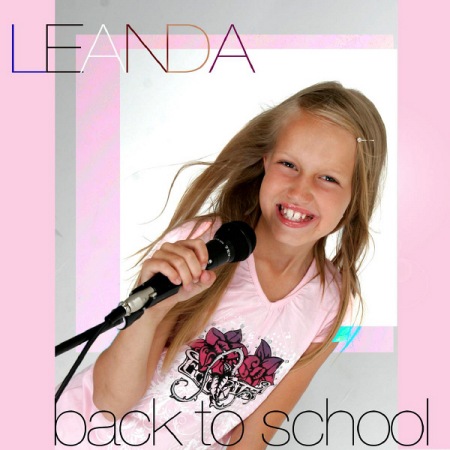 Hi Leanda ! Why do you like to sing? And what do you like to sing?
Leanda
: I like to sing because its fun and because of how I can express my feelings and emotions through the music.
There are many things I like to sing. Pop, rock and ballads are my favorites.
How do you practice your voice?
Leanda
: I practice my voice in many different ways.
I sing all the time, even when I eat, so in a way I practice all day long, hehe.
In September I started taking song lessons 20 minutes every week.
There I warm up my voice first, then I rehearse different songs.

You have released a song called "Back to school" in 2008. Explain me how this project was possible for you. What this song brings to you?
Leanda
: I got to record the song "Back to school" after I won a national songcontest in the summer of 2008.
It was hosted by P4 (Norway`s largest radiostation) and Universal Music, and was named Talentjakten (Talent Hunt).
Everyone in Norway could send a song clip to the radio, and they had duels on the radio were the listeners could vote on who they wanted to go to the final. I made it to the final and was so lucky to win!
The prize in the competition was to get a song on the compilation CD "Hits for Kids 20" and Henning Hoel Eriksen, a Norwegian producer, wrote "Back to School especially for me.
I really liked the song, because I like school, and most of all because it's such a positive song.
One of my greatest memories with Back to School was when we made the music video. We filmed for 3 days and it was so much fun. The premiere of the music video was in a movietheatre in our city, and everybody that was in it, or helped making it, was invited. On the premiere we also showed a "behind the scenes" movie of the making of the musicvideo and a lot of pictures. That was fun.
Why "Back to school" wasn't released as a single but only in a compilation CD?
Leanda
: "Back to School" is actually released as a single digitally. It is possible to buy it on iTunes and musiconline.no. It is also on Spotify :-)
Have you made some shows or TV or others?
Leanda
: I've had some performances singing, and have participated in different plays (musical and theatre).
In the fall in 2009 I was in My Camp Rock Scandinavia on Disney Channel. It was a reality show based on the movie Camp Rock. That was the best week in my life!! J A whole week just doing what I love the most in life, and meeting 5 others that love singing and dancing as much as me. We had some of the best song and dance instructors in Scandinavia, and we learned a lot.
I was so sad when it was over, and I even cried a little bit right before I was going on stage to sing in The Final Jam, because I knew that after Final Jam, the week was over, and we would all go back home.
It was the best week in my life :-D
What are you projects? Your dreams?
Leanda
: I have recorded two new songs, and they will hopefully be released soon :-)
In June I will sing in a Music festival in my Town, and in March 2011 I will be in a Musical called Honk.
My dream is to bring people something through the music and continue to sing and perform. I have started to write and make melodies myself, and hope to make my own songs in the future. I would love to travel around the world and perform in different countries, and hopefully get the chance to release a cd

And I really hope I get the chance to work with Disney again

Thank you so much Leanda. I wish you the best and that you will record your own album.